*Inspected and licensed by the Georgia Department of Agriculture*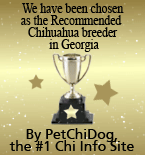 Chihuhua Puppies & Chihuahua Rescue
Welcome to the home of Oakwood's Chihuahuas. Although I have two Maltese and one Italian Greyhound that are spayed, I only breed long coat and smooth coat Chihuahuas. I am always trying to improve my breeding program and breed to the standard of the breed set by the American Kennel Club.
All my dogs are AKC registered. They all go to the Vet and are current on shots. I am always trying to produce my next show puppy. I do Chihuahua rescue as well. I think there is a person for every dog rather he is a little older, larger than the standard, a little grumpy, or even has some type of disability.
So rather you are looking for a show dog, a beautiful pet, or a special rescue please check us out and see if we have what you are looking for.
We do offer shipping on our puppies. We stand behind every puppy we sell.
Expecting Parents
Oakwood's Blu Moon's Capt & Misty's Isabella & HI-C Chips Ahoy At Oakwood

Born: Dec. 2013

Can't wait to see what these two AWESOME CHIHUAHUAS Produce!
Bradford's Captivating N' Oakwood's Dream of Lily & GRAND CH. HI-C N, Oakwoods Lil' Rock Star (Rocky)

Due: 12/07/13

WOW, What an AWESOME Pair!!! Grand CH. Hi-C N' Oakwood's Lil Rock Star and Bradford's Captivating N'Oakwood's Dream of Lily.