*We've Combined our Breeding Program to Produce Exceptional Chihuahuas*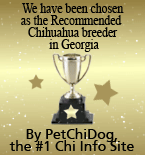 Welcome to Darlene's & Bradford's Chihuahuas
The love for Chihuahuas inspired our friendship several years ago. We both have years of experience working with, breeding & training this amazing Breed.
We breed to the standard of the breed set by the American Kennel Club and have both long coat and smooth coat Chihuahuas.
We've put forth a lot of time & research toward the bloodlines of our breeding program as you will see in the pedigrees of our parents.
No expense is spared on the health and welfare of our pets. All of our dogs are AKC registered. They go to the Vet and are current on shots. Every effort is put into the health and temperaments of our parents & puppies.
We've taken a break from showing our Beautiful Chihuahuas this past year. Darlene has had some health problems and my dear husband has been busy constructing a new place in our home for our newest Chihuahua babies.
I do plan on returning to the show ring, with some new hopefuls, in this coming New Year!
So rather you are looking for a show quality dog or a companion/pet, we have them all.
WE DO OFFER SHIPPING ON OUR PUPPIES.
WE STAND BEHIND EVERY PUPPY WE SELL.
We're located in the great State of GEORGIA. I live within walking distance of the Historical Chickamauga Battlefield and just several minutes from Chattanooga, Tn.
Expecting Parents
Oakwood's Blu Moon's Capt & Misty's Isabella & HI-C Chips Ahoy At Oakwood

Born: Dec. 2013

Babies are Here and they are BEAUTIFUL!!!!!
Bradford's Captivating N' Oakwood's Dream of Lily & GRAND CH. HI-C N, Oakwoods Lil' Rock Star (Rocky)

Born: 12/07/13

WOW, What an AWESOME Pair!!! Grand CH. Hi-C N' Oakwood's Lil Rock Star and Bradford's Captivating N'Oakwood's Dream of Lily. AWESOME LITTER!!!!! 2 Rare Blue males Spotted on White and 2 Black Spotted on White Females. AND WITH AN AWESOME PEDIGREE! Check out their photo on the Nursey page.